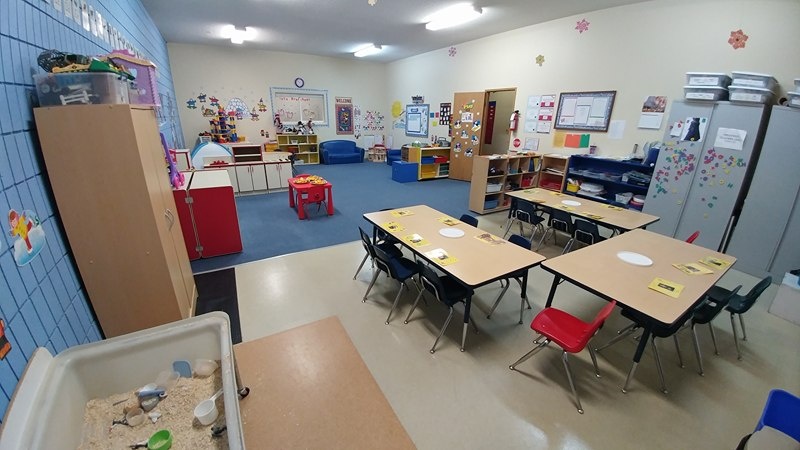 Our preschool program is for children 3 and 4 years of age. Our preschool program offers many fun and interactive ways to connect with their friends through….
Free Play: sensory table, playdough, table top toy manipulation, science, dress up and library station
Imagination: arts and craft activities
Games: small and large group games
Large Muscle Play: indoor gym and outdoor playground
Circle Time: monthly/weekly themes are taught through finger plays, felt stories, music and songs
Kindergarten Readiness (4 year old classes): phonics program and fine motor development
The goal of our program is to provide child-centered, play-based learning experiences in a safe and nurturing environment that fosters each child's total growth and development socially, physically, intellectually, emotionally, and spiritually.
Our Daily Schedule
Monday/Wednesday/Friday AM Tuesday/Thursday PM Tuesday/Thursday
8:45am Arrival/Table Toys 9:00am Arrival/Table Toys 12:15pm Arrival/Table Toys
9:15am Circle/Craft Time 9:30am Circle/Craft Time 12:45pm Gym
10:15am Gym 10:15am Gym 1:15pm Circle/Craft Time
10:50am Snack Time 10:45am Snack Time 2:00pm Snack Time
11:10am Free Play/Outside Play 11:00am Free Play/Outside play 2:20pm Free Play/Outside play
11:40am Clean Up/Home 11:20am Clean Up/Home 2:40pm Clean Up/Home
*Calendars for each month are provided to give more specific information about field trips and special activities/events
Mrs. Jennifer is the director of the Open Door Childcare Centre. She also is the coordinator of the preschool program. Mrs. Jennifer attended Columbia Bible College and received her Early Childhood Certificate is 1996 and started immediately after her practicum at the Open Door. She has been here for 21 years and worked in all the programs. Mrs. Jennifer was born and raised on a dairy farm and still lives in Abbotsford with her husband of 22 years and has 2 sons in high school. She enjoys spending time with her family, going for walks and going to the movies.
Mrs. Wanda has been in the field since 2000 and has been at The Open Door for 3 years. She got her Early Childhood Education at University of Fraser Valley. Mrs. Wanda is married with 3 grown children and has a dog named Jordan. She enjoys camping with her husband and exploring British Columbia, going for hikes and spending time with her extended family.
Mrs. Gillian went to Conestoga College in Kitchener, Ontario and received her Early Childhood Education there and moved to BC with her husband 20 years ago. She has been at The Open Door for 12 years. Mrs. Gillian has 2 boys, a daughter-in-law and 3 grandsons. She loves spending time with her family and grand children and loves to do puzzles.